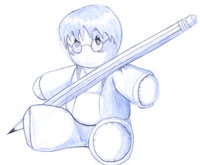 NAME: Michael R. Vano
D.O.B: Sept. 17 1982
PROFESSION: Student / Website Programmer
SCHOOLING: Sheridan College
LOCATION: Mississauga, Ontario, Canada
FAVOURITES
Colour - Blue
Music - Anything that sounds good to me
Artists - Oda Eichiro, Kubo Tite, Takashi Hasiguchi
Food - I'm pretty much open to anything, but sushi has to be the best. Or curry udon. ~mmmm
Animes - One Piece, Bleach, Yakitate!! Japan, Full Metal Panic (all 3 seasons), School Rumble, Ouran High School host Club.
Manga - One Piece, Bleach, Prince of Tennis, Yakitate!! Japan
TV Shows - 24, C.S.I: Las Vegas
Movies - Matrix Saga, Memento, Maverick, Terminator 2, Incredibles, The Rock, Armageddon.
Director - Michael Bay
Sports - Tennis, Volleyball and Dodgeball.
PROGRAMS I USE
Adobe Photoshop CS2 - I've become quite proficient with Photoshop. I can't paint as well as others, but I've picked on most of the hotkeys with it so I know how to work quickly with it. I also keep learning new stuff about it and certain ways to use it.
Adobe After FX 7.0 - This is one powerful program. The fact that you can use it with Photoshop make it easier to create nice looking special effects like smoke or rain or snow. I've also gotten used to compositing with this program. Even animating with it has become fun and easy.
Adobe Premier Pro 1.5 - One of the best video editing programs I know of. A little slow because it takes up a lot of RAM, but I've figured out shortcuts with it. Editing with Premier is actually quite relaxing for me. I really enjoy editing stuff together with this program.
ProTool - I believe this is an industry standard program. Even if it's not, it's still one of the best sound editing programs I know of. Manipulation of sound is fun to do with this program. Making a grown man sound like a kid. Hehehehe.
Flipbook - Good program to check out rough animation. Great for colouring if you have really clean animation. Some bugs in it though. Heh.
HOBBIES
I mostly enjoy coming up with stories. Constantly thinking up ideas and such for any kind of story. Most are long epics, some are movies, episodes. I really love playing tennis. I love watching anime. Obviously from this site, I do drawings as well.